You are an intermediate English speaker.
You understand native speakers when we talk, and it sounds really easy.

But when you have conversations, for some reason, you just don't sound the same.
I hear you.
In this 7-week course (seven weeks), you will master seven (7) grammar topics that I hear intermediate English learners struggle with over and over again. Trust me, you all make the same mistakes.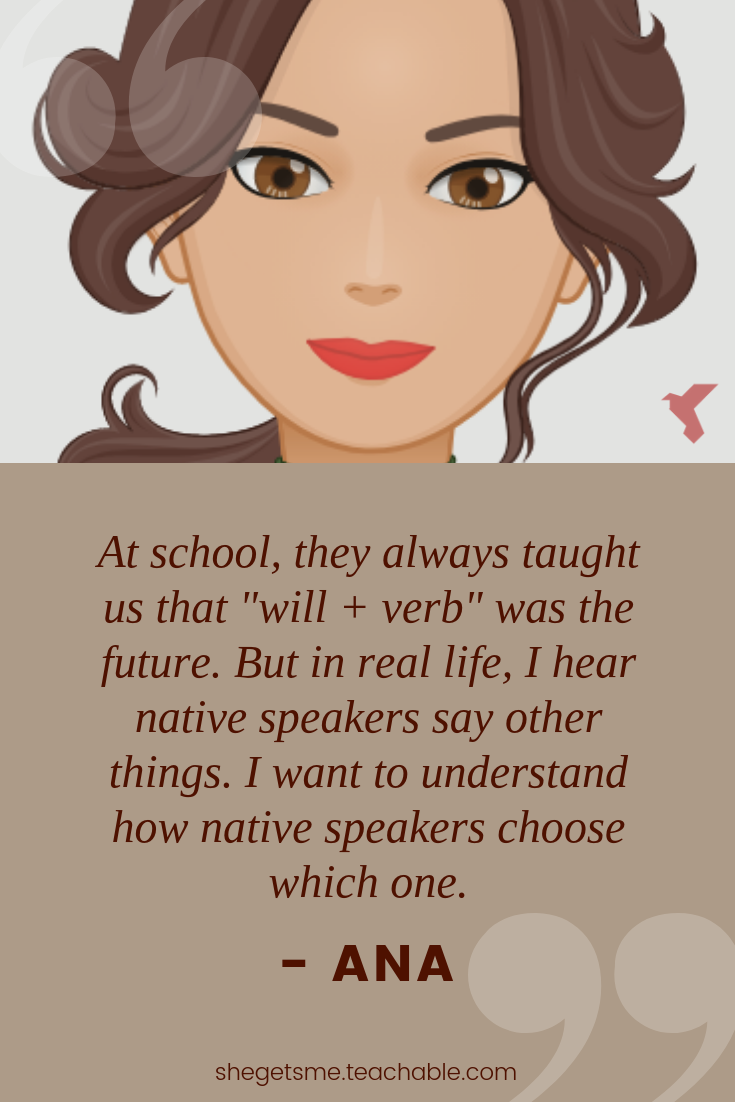 You will hear the stories of seven ladies in the course:
Ana (Mexico)
"At school, they always taught us that "will + verb" was the future. But in real life, I hear native speakers say other things. I want to understand how native speakers choose which one."
Laure (France)
"I never know which verb tense to choose. I feel like native speakers use the same verb tenses for so many different situations. Is there a structure?"
Enrica (Columbia)
"I never learned English formally at school, just with my husband's family, so sometimes I feel like Tarzan when I talk. I would like to improve my grammar so that I sound more proper."
Julie (Québec, Canada)
"Sometimes when I ask a question, I don't get the answer that I expect. Maybe the person didn't understand my meaning. I really want to be understood when I speak."
Renae (Benin / Switzerland)
"Sometimes, I feel like I'm missing some knowledge, because in my mind, the perfect tenses are all so complicated and all sound the same to me. I need a good explanation of how to use which one correctly."
Colette (Switzerland)
"I can have conversations in English but sometimes, there are parts that I'm still unsure about, especially advanced grammar. Even with my level, I still stress when people speak to me in English, and I have the perfect response in French, but I don't know how to translate it!"
Sylvie (Belgium)
"I'm not afraid to speak, so there are a lot of things that I say that are permanent in my brain, even if I know that it is not what native English speakers say. I don't just need someone to tell me that it's wrong, because I won't remember. To fix my mistakes, I need to understand why."
Can you relate to any or all of these ladies?
Each of their concerns are really common. And they have each learned from their mistakes.
Now it's your turn. With my method, you'll master all seven (7) grammar points and sound more fluent in just 7 weeks.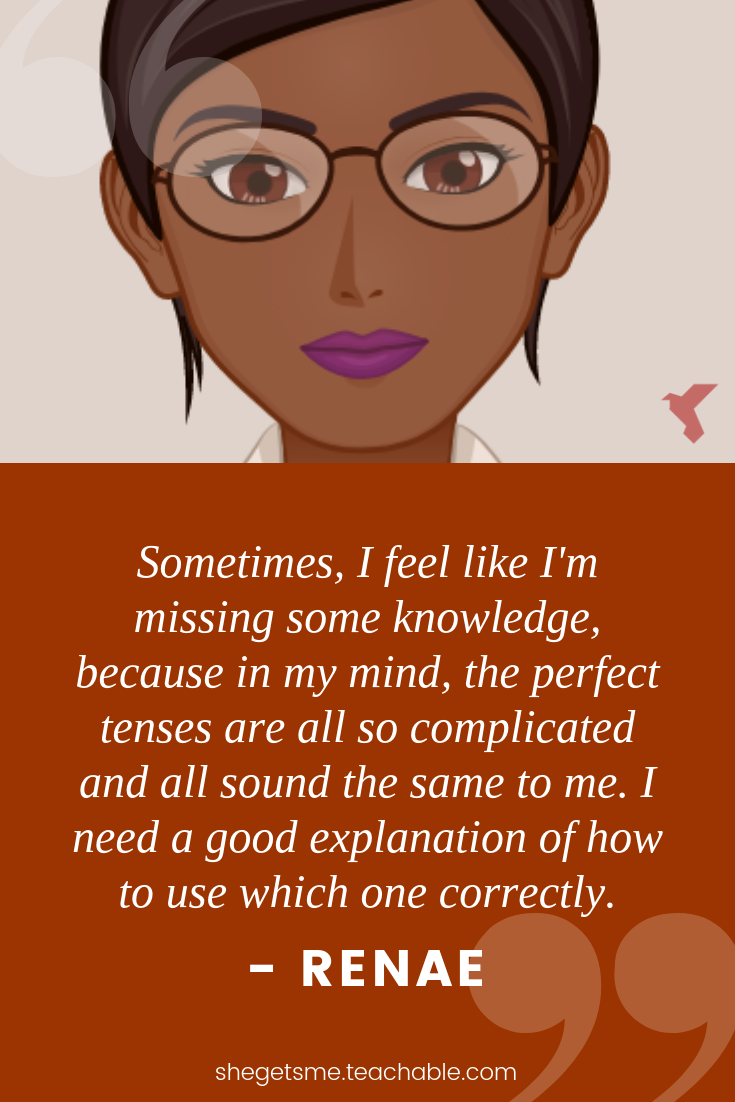 Course Structure
In each module you will:
Meet one of the ladies and be introduced to the problem that they have when speaking English.
Watch a short and easy explanation of the grammar point.
Do exercises that I have either made or chosen specifically to practice and make the grammar clear.
Solve each one of the ladies' problems, and watch a short conclusion of the solution to the problems to see if you are correct.
Practice speaking like a native speaker by listening and speaking with the audio dialogues.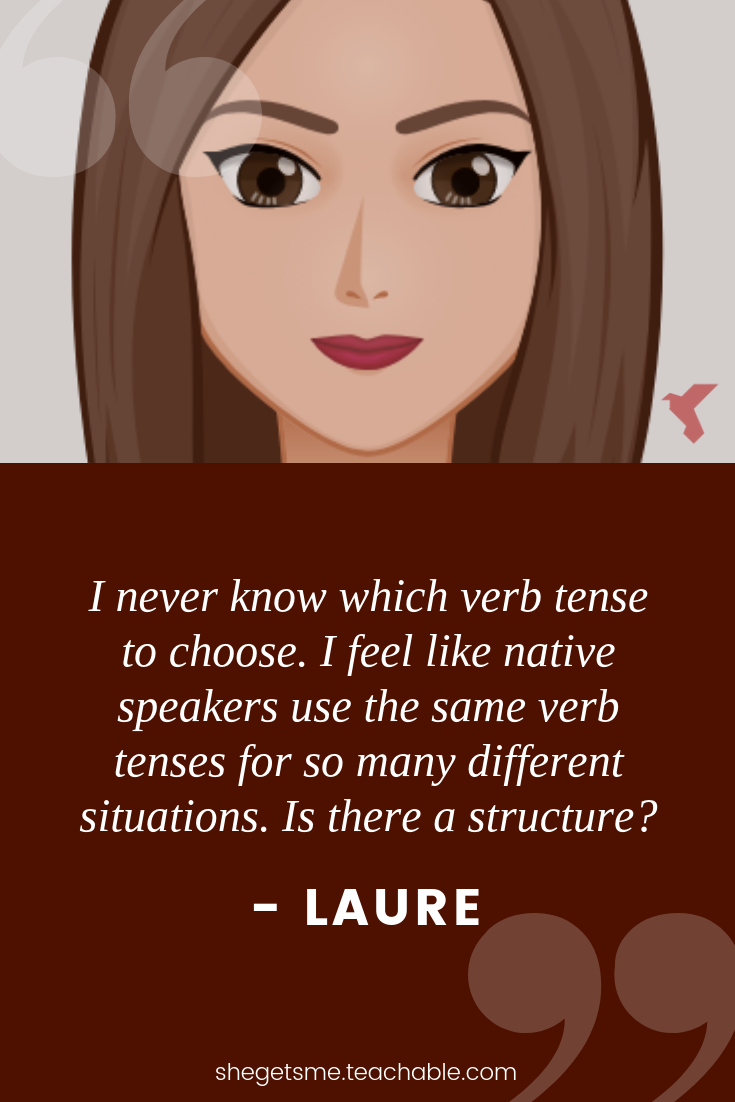 Your Instructor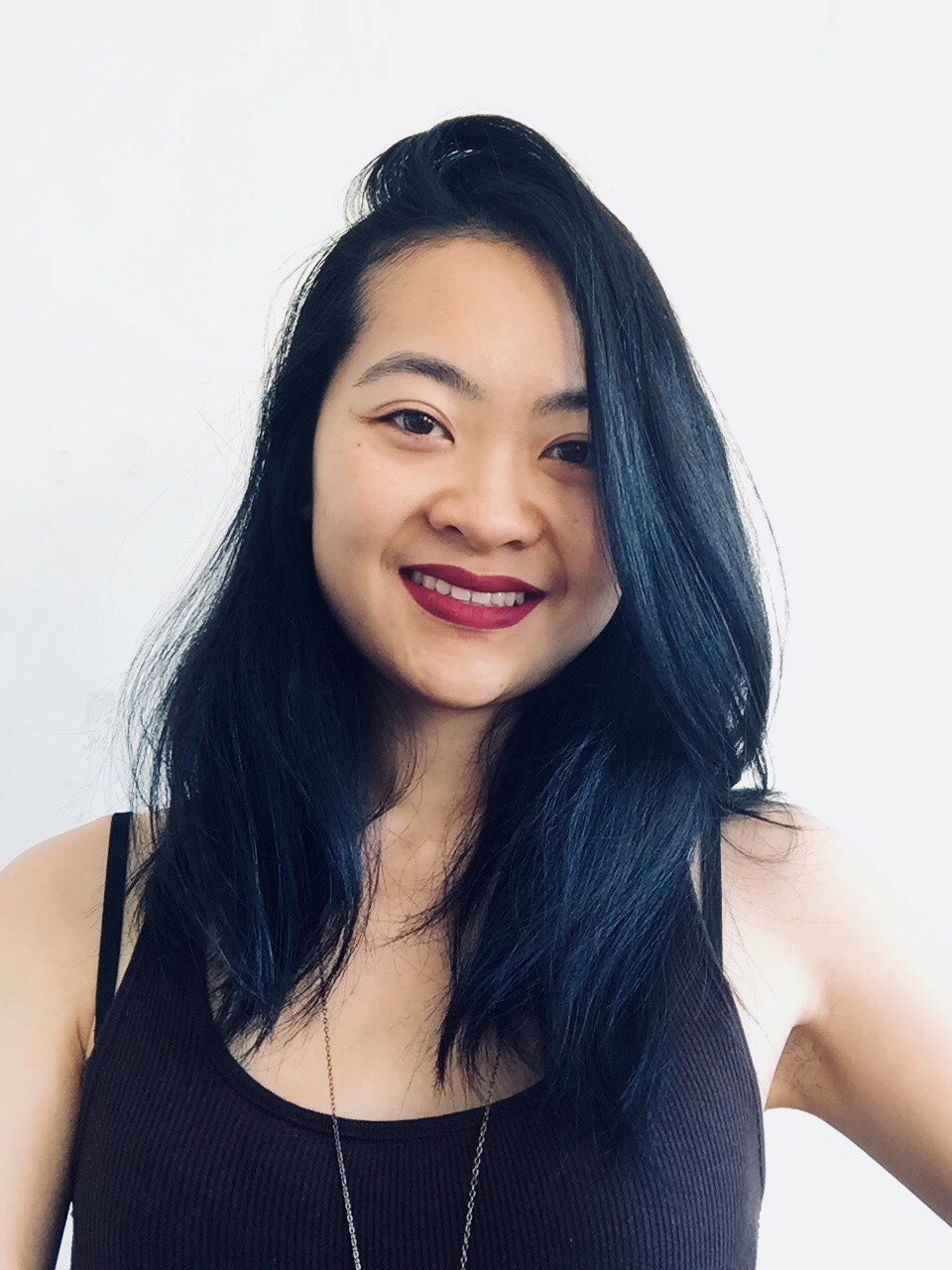 Hello!
I am an experienced instructor who creates personalized English programs. You are welcome to join me from anywhere in the world. My clients have included: the director of a school, an airport security offer, a customer service manager, a surgeon, and numerous clients at the Government of Canada.
Each client's experience with me is different. My teaching style builds confidence, and transforms people from shy and doubtful about their ability to speak English, to people who can communicate effectively.
I am friendly, professional, and extremely patient. I promise that you will not be afraid to speak with me.
So if you're ready to start speaking English now, I'm here for you. Just sign up!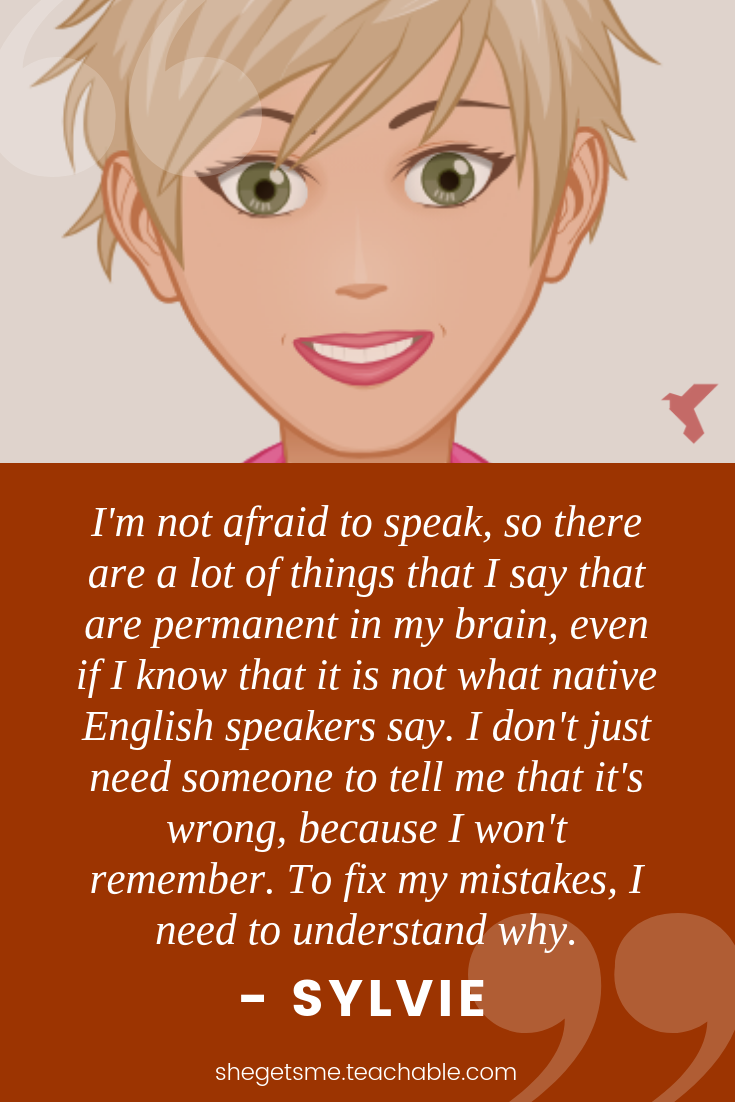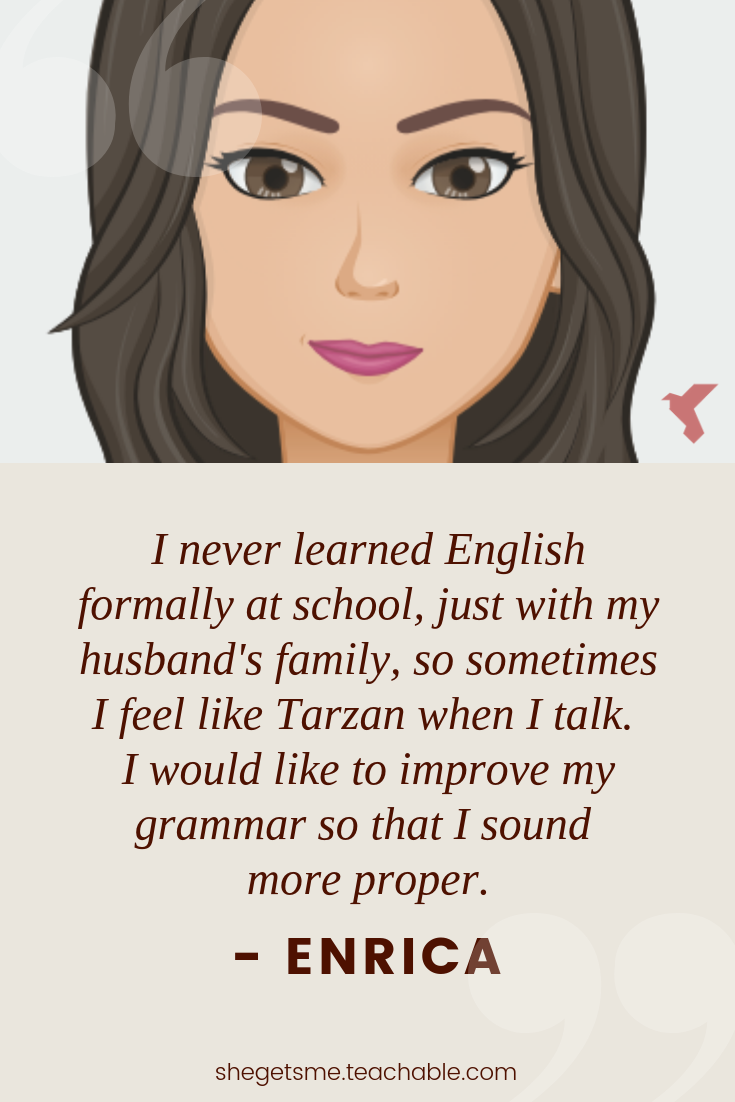 Frequently Asked Questions
Who is this course for?
Sound More Fluent is for intermediate-level English speakers who want to sound more natural in conversations, and make more friends. You will be able to practice seven major grammar points that are essential to everyday conversations with native English speakers. In the course, I speak in my natural way, because I believe that in order for you to improve, you need to hear natural speech, rather than ESL speech. Sound More Fluent is not for beginners or for people who cannot understand spoken English, and it is not a fast-track course. In order to benefit, you need to do the work.
When does the course start and finish?
This is a completely self-paced online course - you decide when you start and when you finish.
How much time does this course take to finish?
The recommended time is seven (7) weeks. It is possible to watch all of the videos, do all of the exercises, and practice all of the audio dialogues in less than seven weeks, but in language learning, quality is always better than quantity. The person who takes one week to understand, absorb, and apply each concept before moving to the next one will be better than the person who watches all of the modules in one week, and doesn't understand, absorb, or apply anything.
How long do I have access to the course?
Once you are enrolled, you have unlimited access to this course for as long as you like, and you can access it on any device that you own.
Can I speak with the instructor during the course?
No, but if you ask a question in the comments under each lecture, I will respond to them.
What if I am unhappy with the course?
If you are - for whatever reason - unsatisfied with the course, you have 30 days from the date of purchase to receive a full refund. You will be un-enrolled from everything that was associated with the purchase. There are no refunds after 30 days.